Good morning Y'all! Yay it is Friday! Let me just say this week has been super long! And I am still saying "please, please, please" in my head! Let me just say I really hate waiting to hear about something that I really want. It makes everything else go real slow!
Anyway, saw Pirates midnight showing last night! I really enjoyed it. It is not better than the first, definitely better than the third but I haven't decided if I like it more than the second. I LOVE Johnny Depp though so I was a big fan no matter what!
I was reading some of the blogs I follow and I came across a great post on Reese and Leigh with a link to a site called The Little Things which is a great blog type thing! You should go check it out! Here are some of my favorites from the website! Enjoy!
I love being able to just fall asleep right away. I used to love when I was in school when I would wake up at like 2am and know that I still had time to go back to sleep.
I love when I find a song I can listen to over and over. Especially one that just makes my mood upbeat!
I hate when you had something to say and then you forget it but it is just right there waiting for you to remember!
I definitely try! I can rap the whole Little Wayne part on Jay Sean Down song!
I definitely love this feeling!
I LOVE when this happens! It makes your shopping trip seem more worth it!
As weird as it might be I do like this!
Don't we all?!
I am also linking up to some blogs today in hopes of finding new blogs to read and new readers for me! First one I am joining today is You Like Me Friday Blog Hop over at A Mommy's Sweet Blog Design! Go check it out!
The second one I am joining today is Social Parade over at Smart and Trendy Moms! Go check them out!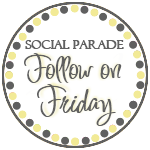 The third one I am joining today is Hop Along Friday over at Chubby Cheeks Thinks.
The fourth one for today is Booste My Blog Friday over at Design it Chic! Go check it out and link up!
The fifth (yes I know I might be going overboard but I want followers!) is Friday Blog Hop at Home Grown Families.
I am also joining Finding Friends Friday at The Adventures of J-Man and Millerbug.
Have a wonderful Friday every! Talk to Y'all later!
~Mrs. Brunette