Today I am linking up with Making Friends Monday over at Living on Love and Cents! Go check them out and link up!

I am also linking up with Mingle Monday over at KdBuggie Boutique.

The third one I am linking up with today is
Meet Me Monday
over at Inspiring You 2 Save!

I also found one called Miscellany Monday over at lowercase letters! Go check it out!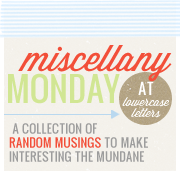 1) What do you do when you're running through your neighborhood and come across the same red truck on five different occasions, each at different places?
Well since I am a paranoid person I would probably think that they were following me and I would run as fast as I could either home or to the nearest neighbors house to say I was being stalked. (yes I stole the question from the blog but I wanted to answer it)
2) I am extremely excited to try my slow cooker chicken that I have cooking at home tonight, that my Mom prepared for me in a little baggy and all I had to do was dumb it in :-). Thanks Mom!
3) I am extremely determined to work out like a mad woman for the next three weeks!
4) I truly want to just throw everything away that is in our apartment, not really cause I am a pack rat but I am going to box it all up and store it until we move!
5) I am not sure why they let people add stuff to your wedding registry. Truly people the 250+ things and you can't find one you want to give us, that we actually want. Instead I must return said item that I don't want.
6) New song of the day is Who Says by Selena Gomez it has been stuck in my head.
7) Vegas on Thursday!!!
The last one I am linking up with today is Meet Me On Monday over at Never Growing Old!
What is your favorite bagel flavor? Plain, toasted with butter. Hands down the best!
If you had an extra $100 right now, what would you spend it on? I would probably save it in our honeymoon savings envelope.
What is the last thing you felt guilt about doing? Eating McDonalds Hashbrowns for breakfast when I am supposed to be getting in wedding day shape!
Soft served ice cream or hand dipped? I would have to say hand dipped.
Are you allergic to anything? I am allergic to dust, cottonwood, and lilac.
I will be posting an actual post later just want to get going on these so maybe I will have some new followers! Leave me a comment! I follow back!
~Mrs. Brunette